Test Systems & Facilities Overview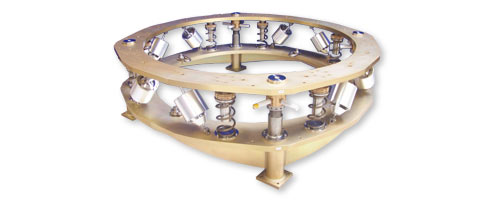 There is always room to improve your capabilities, and develop new methods or systems that will help you redefine performance through adapted solutions. With Moog CSA test systems, you can take your test processes to the next level, maximizing your current system investment.

From a wide array of components and test rigs designed for every conceivable test application, you can find a solution that's right for you. This includes concept to reality solutions for component testing, turnkey systems, static and dynamic testing and the required test facilities.
Aerospace Test Systems
Aerospace test is usually a long term project requiring complete reliability and test quality at all times. With Moog test systems you can test flight control systems with realistic aerodynamic loads at control surfaces and you can develop expandable structural tests.
Space and Defense Test Facilities
Physical simulation of operational environments is especially important for high value space and defense applications. Our turnkey test facility products allow you to manage motion and vibration in comprehensive ground test of satellites, spacecraft instruments and components, missile seekers, and other vehicle payloads.
Custom Test Facilities
Does your application call for difficult or seemingly impossible testing of a space component or system on the ground?  Moog CSA will work with you to understand your requirements and develop a custom system that builds on our established products.
Vibration Testing
Don't let vibration degrade your system performance. Let Moog CSA provide you with vibration testing to diagnose the cause of high vibration levels in your machinery or precision device.
Contact Us
Please fill out the form and one of our engineers will get back to you. Partial or incomplete specifications are welcome