Space Overview
Moog CSA offers product and service capabilities to solve the most demanding vibration and motion control problems for aerospace and commercial applications. Over the past 25 years, Moog CSA has assisted commercial and military aerospace customers to provide:
Satellite payload and vibration isolation systems
Ground-based test systems
Hexapods for space and missile systems
Tuned mass dampers for vibration control
SoftRide spacecraft isolation systems
Shock test services
Spacecraft jitter simulation
Satellite transport shipping containers
Providing Ground Test, Launch Assistance, and On-Orbit Support
Moog CSA supports all areas of a spacecraft's lifetime, from ground test to launch assistance to on-orbit support. We emphasize vibration and shock management without compromising other systems requirements, supplying:
Structures and payload interfaces which directs attention to on-orbit functionality rather than launch survival
Adapters which enable multiple payloads and function as the core of satellites and orbital transfer vehicles
Instrument and chassis-level shock and vibration isolation systems to protect components during launch and reduce on-orbit jitter
Applications Built for the Future Constellation
Moog CSA rigorously applies established methods and develops new ones when none exist. Our products are not limited by conventional constraints, which is why we contribute key technologies to NASA constellation programs and Operationally Responsive Space, including:
Atlas V and Delta IV payload adapters
Hubble solar array vibration dampers
Taurus, Minotaur and Pegasus launch load alleviation
LCROSS lunar mission
GLAST/Fermi vibration dampers
Delta II and Delta IV launch load alleviation
Contact Us
Visit our Moog global site to learn more about:

These sites redirect to moog.com
LADEE Integrated Satellite Transport System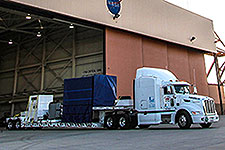 Moog CSA provided the integrated satellite transport system for the NASA Lunar Atmosphere and Dust Environment Explorer (LADEE).